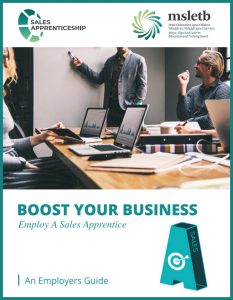 Great News!
The MSLETB Sales Apprenticeship Programme has been recommended for validation by a QQI Panel of Industry & Academic experts.
We are expecting that the programme will launch in early Q1 2020, MSLETB will be engaging with employers throughout Ireland in a series of breakfast briefings about this valuable programme later in 2019.
Congrats to the MSLETB Sales Apprenticeship Team.
For more information contact apprenticeship@msletb.ie. An information booklet for employers is available; Click on the image to download.